Insights | Blog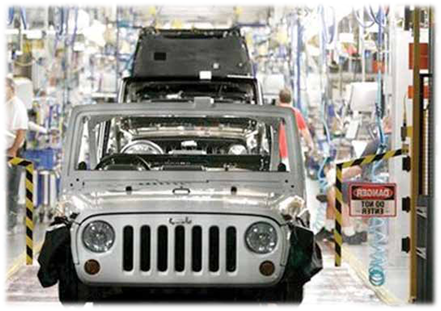 Can the Automotive Industry Handle a Trade War?
President Trump recently announced a plan to push forward an increase in import tariffs on steel and aluminum. Steel will carry a 25% tariff and aluminum imports a 10% tariff. These tariffs could result in upheavals in production, pricing, and availability of these critical materials to many U.S. businesses considering that the U.S. is the world's largest importer of steel.
The Wall Street Journal (WSJ) indicated in an article (March 2, 2018) that steel prices could get dramatically higher in the short run, aluminum prices are likely to rise at a more moderate pace. This will bolster those industries creating jobs and economic growth; one of the cornerstones of Trump's agenda.
The question is, how will the tariffs impact the users of steel and aluminum in the US? Specifically, how will this impact profitability and pricing of new vehicles by domestic automakers? The ripple effect of the higher priced steel and aluminum are likely to be felt in consumers purchases of many durable goods, including new automobiles.
NPR reported the American International Automobile Dealers Association (AIADA) said: "Both metals are crucial to the production of cars and trucks sold in America today and would raise the sale prices of those vehicles substantially. A statement from the American Automotive Policy Council expressed concern that the change would place the U.S. auto industry at a "competitive disadvantage." AIADA President and CEO Cody Lusk weighed in, saying: "These proposed tariffs on steel and aluminum imports couldn't come at a worse time. Auto sales have flattened in recent months, and manufacturers are not prepared to absorb a sharp increase in the cost to build cars and trucks in America."*
GM and Toyota, however, may have a competitive advantage over other US automakers based on the proportion of domestic versus imported metal they use. CNBC reported that General Motors expected only a modest impact from the tariffs because "we purchase over 90% of our steel for U.S. production from U.S. suppliers"* Toyota also released a statement saying "The majority of our steel and aluminum purchases come from the United States."
The reality is although Trumps tariffs will bolster the domestic steel and aluminum industries, they may damage countless other domestic industries. The automotive OEM's and suppliers will be challenged to provide their products at competitive prices in the market place. It is unknown how the tariffs will impact foreign automotive manufactures. At a minimum, automotive industry sensitive businesses should be planning for a downturn in demand from all links in the automotive supplier chain. Recent predictions of a downward cycle in the automotive sector, may now be accelerated as a direct result of the new tariffs. We would all be wise to plan our decisions accordingly.
---
*CNBC.com, March 1, 2018, Automaker stocks dive after Trump announces new tariffs on steel and aluminum imports.