Insights | Blog

Does Tourism Attract Talent in the Long Term?
In early July of this year, the State of Michigan cut almost half of the budget for its Pure Michigan tourism campaign. In making its decision, lawmakers cited that "promotional advertising should focus on talent attract (sic), labor retention, and working and relocating to Michigan". Pure Michigan's management countered that tourism brings people to the state – "People want to live where they visit." and the portion being cut would have been geared toward a national audience.
Employers understand that a talent shortage is affecting much of the country, and it seems worthwhile to take a deeper look at whether tourist advertising turns into residents.
To do so, the table below has been compiled for the top ten states by tourism advertising spend in 2015 and the state's resident population as a percentage of the overall U.S. Population. These states have also traditionally led the nation in the tourism promotional advertising category. Perhaps it provides context to the phrase "It's a nice place to visit, but I wouldn't want to live there."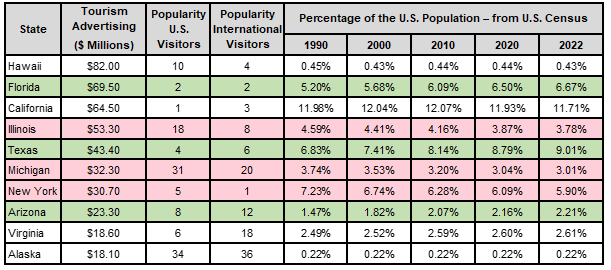 Given that 3 states lost close to a percentage point or more in population to other states and 3 others gained close to a percentage point or more, while 4 state remained practically unchanged, it seems that advertising to attract tourists does not have a correlation to attracting residents. Nor does it appear that advertising dollars directly correlate to attracting tourists as shown by the popularity rankings of Alaska, Michigan, and Illinois.
Factors that traditionally drive people to move are mostly economic in hopes of a better life. United Van Lines has been tracking moves for several years, and the number one reason for pulling up roots is a job. Historically 50 percent of moves are for employment, although given the drastic changes with flexibility in the workplace that number dropped to 32.5% in 2021. Wanting to be closer to family as a reason to move gained a lot of ground and was at 31.8% in 2021.
However, even though most out of staters who come to Michigan are visiting friends/family, this has not translated into permanent residency. In fact, Michigan lost over fifty thousand people between 2020 and 2022. The table below for the same States as above clearly shows the most direct correlation of migration occurs due to the categories of economic growth and job growth. To really attract talent, it appears efforts should be focused on those issues.