Insights | Blog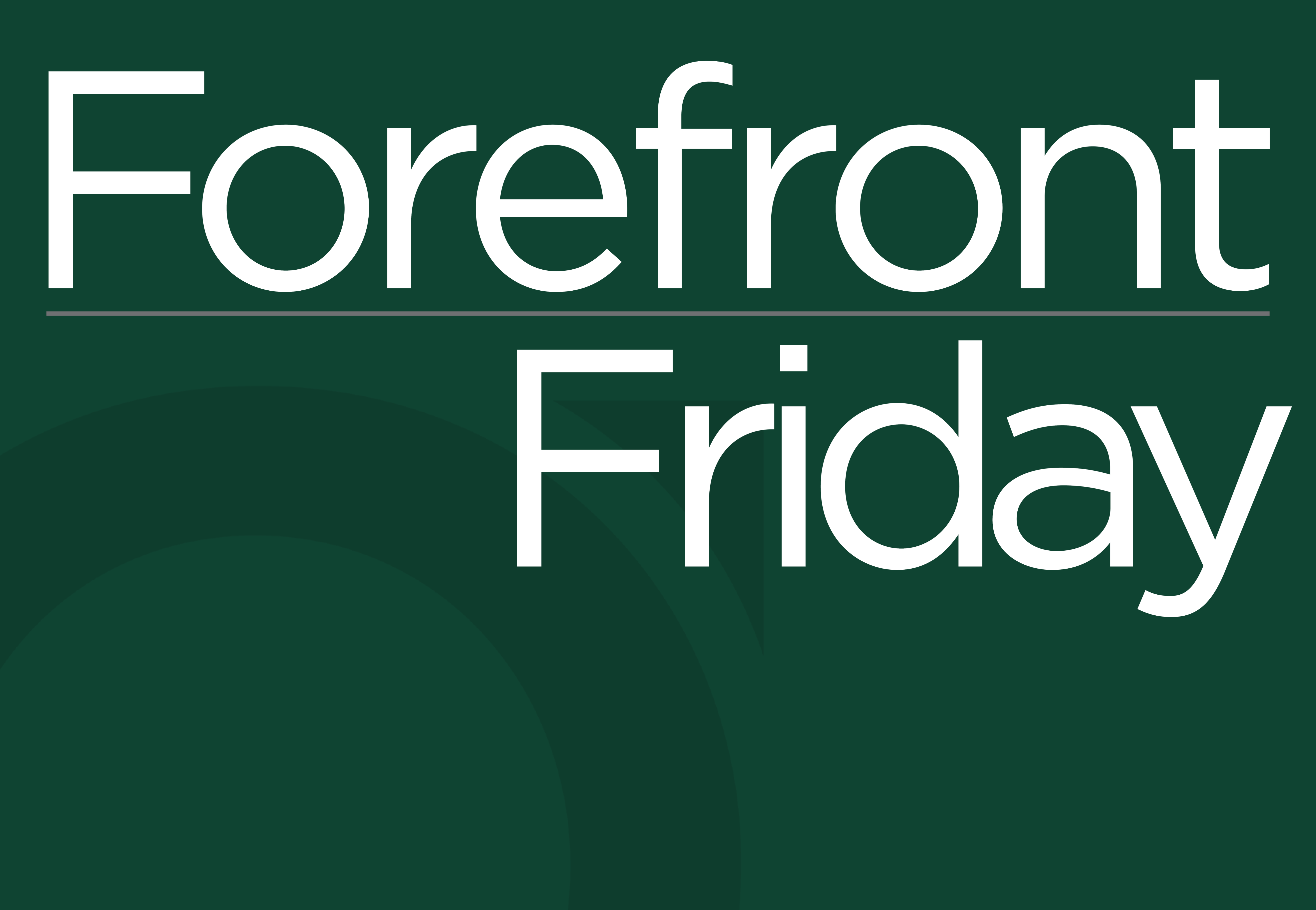 Forefront Friday – The Economic Impact of Hosting the NFL Draft
The NFL draft is one of the most anticipated sporting events in the country, and Detroit is set to host in 2024. So, what kind of economic impact can these host cities anticipate? Well, last year's draft in Cleveland brought in $42 million.1 Not too shabby, given the fact that it took place with limited capacity due to the pandemic. Las Vegas was slated to host the 2020 draft, but it took place virtually. In 2019, Nashville brought in a record $224 million, and Dallas saw $125 million in 2018.2 The following graph shows the economic impact of each host city for the last five years.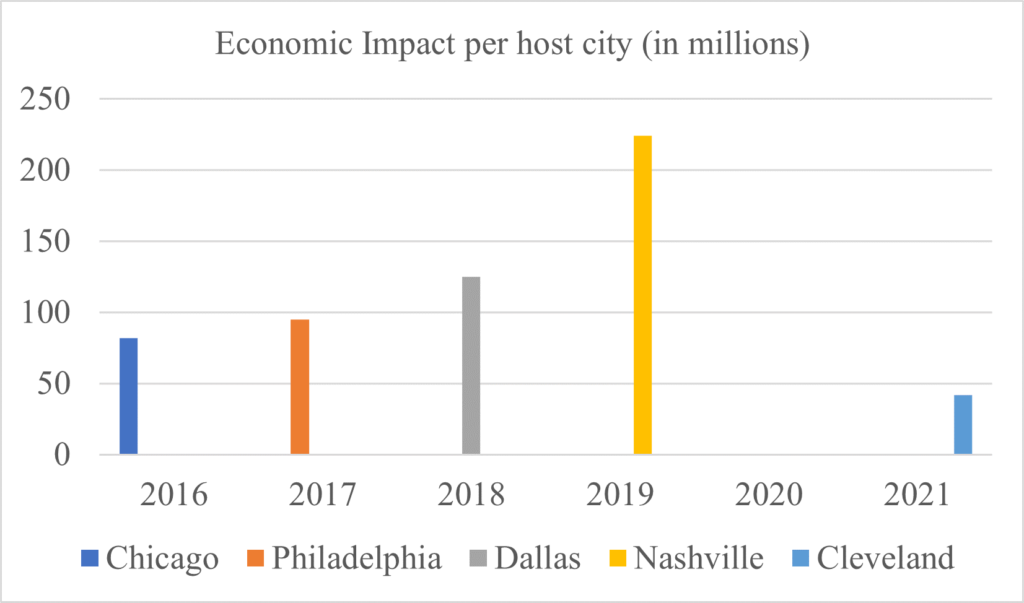 However, there are costs involved in hosting so it's not all it's cracked up to be. Sports economists will tell you to take these figures with a grain of salt. Economic impact studies, especially those commissioned by cities and tourism bureaus themselves to justify their expenditures, are notorious among economists for their rosy, inflated results, ones they say are prone to overlook things like substitute spending (locals spending money they would have spent otherwise), indirect negative economic effects (people avoiding the area because of the event), upfront costs paid by taxpayers (police, traffic control, sanitation), and an un-nuanced picture on who directly benefits most (hotels, a handful of bars and restaurants in the immediate area of the event center).3
On the other hand, the opportunity to host the draft is nothing you would turn down. It's a proud moment for the host city, and an opportunity to take international stage with massive media & TV exposure. During the 2019 NFL draft, TV advertising totaled an estimated $52 million.
Let's break down some more figures using 2019 since they'll fall more in line with what we anticipate seeing when Detroit hosts in 2024. By then, the U.S. should be back to its free-swinging tourism ways and numbers.
Nashville generated $133 million in direct spending, drew in approximately 600,000 visitors over the span of three days, and 47.5 people viewed the draft on TV.4 According to the Nashville Convention & Visitors Corp's news release5, here's how visitor spending broke down: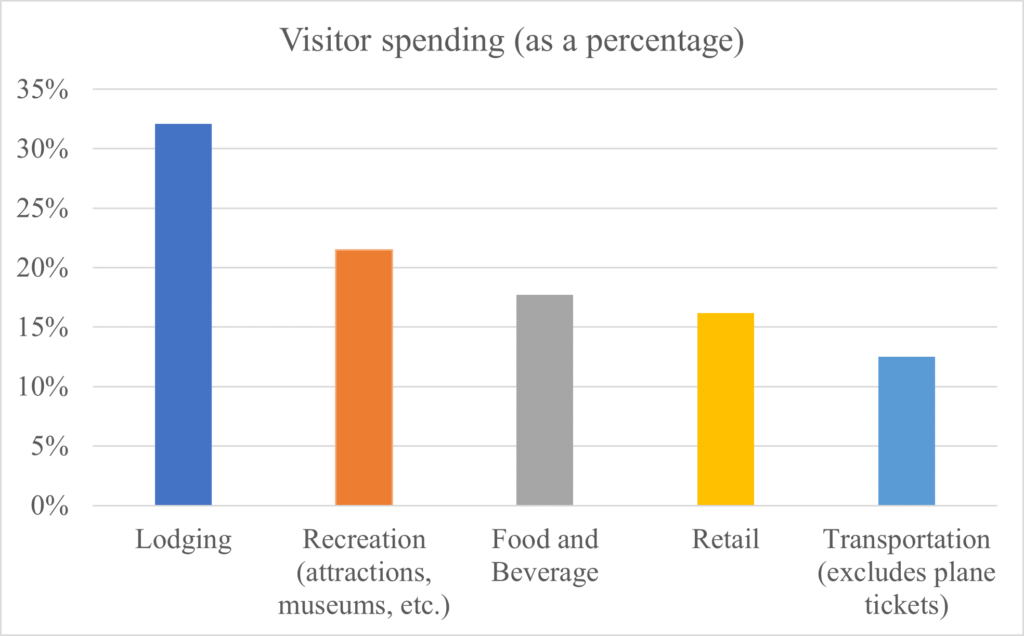 Other highlights from the news release:
Event generated $10.6 million in taxes and fees for Davidson County.
54% of attendees surveyed were visitors, and 46% were local.
75% of visitors attended multiple days of the draft, compared with 50% of locals.
33% of visitors said they flew, while 67% drove.
81% of visitors surveyed cited the draft as their primary reason for visiting Nashville.
97% of attendees said they were likely to recommend the event.
We'll have to wait a few more years before we see if Detroit breaks economic impact records. But as with any other host city, it's going to be a chance for the Motor City to shine, highlight the city's recent progress, and be recognized as a destination for top sporting events. As a huge football fan and proud Michigander, I'm looking forward to this.
---
1https://www.clevescene.com/news/nfl-draft-led-to-a-kajillion-dollars-of-economic-impact-in-cleveland-says-company-whose-sole-mission-is-to-justify-mega-events-36518083
2https://www.yahoo.com/now/nashville-apos-nfl-draft-generated-193243069.html
3https://www.clevescene.com/news/nfl-draft-led-to-a-kajillion-dollars-of-economic-impact-in-cleveland-says-company-whose-sole-mission-is-to-justify-mega-events-36518083
4https://www.bizjournals.com/nashville/news/2019/05/23/nfl-draft-breaks-nashville-economic-impact-records.html
5https://www.bizjournals.com/nashville/news/2019/05/23/nfl-draft-breaks-nashville-economic-impact-records.html