Insights | Blog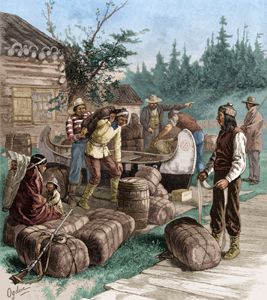 The American Fur Company – 200 year old turnaround story
This year marks the 200th anniversary of one of the greatest turnaround successes in United States history. In, 1822 John Jacob Astor moved the headquarters of his recently reorganized American Fur Company to Mackinac Island. The company was in financial ruins during the war of 1812, but by 1830 his company had close to full control over the fur trade in the United States.

I'm always a sucker for stories about entrepreneurs, and love to read history. Upon learning that this was also a turnaround story, I had to learn more. So, naturally I picked up Peter Stark's Astoria: John Jacob Astor and Thomas Jefferson's Lost Pacific Empire: A Story of Wealth, Ambition, and Survival published in August of 2014. Although it's written as a historical adventure, the American Fur Company at Astoria is a great failed business case too.

Astor's mastery of fur trade in America's east gave him the vison for ADDING value through continental expansion.
• Adding Volume, Growth: Establishing a west coast presence would provide an untapped supply of pelts, and easy access to unlimited demand for furs in China. Given these projections, one could expect true economic profitability quite quickly.
• Decreasing Costs: Logistics- by harvesting local west coast pelts and reducing the transportation costs (no more circumnavigating the globe to make deliveries), with no expected negative impact on prices, Astor's margins were going to be substantial.
• Differentiating or Increasing Willingness to Pay: Frequent Deliveries and consistent supply– could get to China twice as fast, and twice as often as his competitors. His company would easily be the preferred supplier.
• Improving Industry Attractiveness or Bargaining Power: Once the fur trade was established, and the ports active, Astor could begin controlling other trade on the west coast and across the Pacific
• Normalizing Risk: Reduction of competitive risk – If Astor wasn't first mover, the British fur companies were already discussing establishing a west coast presence.
• Generating Knowledge: Trade routes – Astor knew that finding the most direct land route to the west coast would not only ensure his venture would be first to take hold but would also speed logistics back to the east coast. Solidifying relationships with the coastal Native Americans would also be a great first mover advantage.

Yet, the venture failed within the first 3 years because Astor lacked a solid strategy for confronting CAGE distance challenges.
• Cultural Distance – Astoria had problems adapting. Astor's key error was placing an inflexible sea captain in charge of negotiations with the coastal Native Americans. Not only did his need for total control and crass tactics create an economic impasse, but it offended the local leadership so much that they killed the captain, crew, and destroyed the venture's ship.
• Administrative (governmental) Distance – Political hostility, ties to a competing government. Astor chose British leaders to run operations due to their knowledge of the fur trade. Although he understood the risk, there was a gross underestimation of where their allegiances lied when the War of 1812 commenced.
• Geographic Distance – Unanticipated challenges with climate, distance, topography, and waterway access, resulted in immense time and cost overruns.
• Economic Distance – Astor and his team didn't understand the drivers of the local economy. They overestimated the significance of furs and underestimated the level of wealth possessed by the natives. Astor's trappers inhibited the locals from using the land for more profitable activities. Overall, this drove up supply costs, and created a lack of cooperation.

Although Astoria failed for many of the same reasons we see in global expansion with today's companies, Astor's American Fur Company made an amazing turnaround in part due to applying lessons learned and to his political influence once the U.S. regained territorial control after the war.

On April 29, 1816, congress forbade licensing any traders dealing with the Native Americans who were not United States citizens (exceptions could be granted by the President, however). Astor then persuaded President James Madison delegate his authority to grant exemptions to the governor of Michigan Territory Lewis Cass. Once this occurred Astor immediately bought out the Canadian and British interests of postwar partnerships.

In 1822, around the same time the company's headquarters moved to Mackinac Island, the American Fur Company obtained favorable legislation closing former British government factories. Astor continued to use his connection with Cass to get his Canadian traders exempted under the law while lobbying to void similar exemptions for his competitors. In addition, shrewd business practices allowed the company's pricing to be much more competitive in the global market. The turnaround was in full swing.

By June 4, 1834, when Astor sold his interest, the American Fur Company with its subsidiaries had become the largest commercial organization in the United States.
---
Sources:
Haeger, John, "Fur Trade Society in Chicago, Milwaukee, and Green Bay: A Study of the Transitional Period of the American Fur Trade, 1815-1838" (1966). Master's Theses. 2135. https://ecommons.luc.edu/luc_theses/2135
Britannica, The Editors of Encyclopaedia. "American Fur Company". Encyclopedia Britannica, 28 Dec. 2018, https://www.britannica.com/topic/American-Fur-Company. Accessed 22 September 2022.

Stark, Peter. Astoria: John Jacob Astor and Thomas Jefferson's Lost Pacific Empire. New York: HarperCollins, 2014.